Your Own Story
An Introduction to Memoir and Personal Essay Writing
A creative writing workshop led by Lisa Yarger

This workshop is now full.
Lisa will offer it again in the fall of 2023.
If you'd like to pre-register for that workshop
and receive advance notice of the date,
please email us at
store@themunichreadery.com.

Sunday, 7 May
14:00 to 17:00

In-person, at the Munich Readery

Cost: 40*

"Everyone has a story, the air is full of stories."
Isabel Allende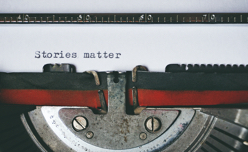 Photo by Suzy Hazelwood

You don't have to be a celebrity to write a memoir or a personal essay, and you don't have to be famous to write about yourself.

People write memoirs and personal essays for all kinds of reasons: to tell their story, to entertain friends and family, to connect with strangers, to make sense of a slice of their life, to document a joyful experience, to work through a traumatic experience and release pain, to leave a record.

In this workshop, we'll explore different examples of memoir and personal essays. You'll reflect on your own life experience and think about the stories you most want to tell. You'll try out some playful writing exercises to help you begin to focus your story and craft your narrative voice.

No prior creative writing experience necessary. This workshop will be led in English, but you are welcome to join regardless of your first language. Participants are welcome to do the writing exercises in their native language.

Preparation for this workshop: After registering, you'll be given 2 - 3 short pieces of memoir and/or personal essays to read before we meet. (Total reading time: about 30 minutes.)

To register, send an email to Lisa at store@themunichreadery.com

Lisa Yarger is the author of the award-winning non-fiction book,
Lovie: The Story of a Southern Midwife and an Unlikely Friendship
(University of North Carolina Press).
She is married to Munich Readery proprietor John Browner.

To find out more about Lisa, visit:

www.lisayarger.com

www.uncpress.org

* Reduced rate available for students supporting themselves, and in hardship cases.

Feedback from past participants:

"It gave me a new angle on writing about myself and lots of stimulation."

"I liked the readings and talking about them, the listening exchange, and being surprised by things that turned up, such as the reflections of the other participants, and my own ideas springing up from nowhere."

"Despite the difficulties of being online, Lisa is good at fostering communication and learning. I like how she works to make sure all can speak."

"The idea of becoming a character creates a nice distance from the more squishy inner parts of self that don't want to be exposed to public view, meaning it's also possible to fudge a bit. Very helpful and freeing."

"The writing exercises we did expanded my openness towards writing more personal essays and short memoir pieces." "I liked getting the juices flowing and the inspiration from the readings, other participants, and within."

"I really liked the free-writing exercises. The prompts helped me stumble upon some themes and some influences in my life that I hadn't really considered."

"I like that it was a mixture of writing exercises, discussing very well curated readings, and guidance from Lisa. It was very well balanced and I liked that variety a lot."