Your Own Story:
An Introduction to Memoir and Personal Narrative Writing

A 3-hour Zoom workshop
led by Lisa Yarger

Sunday, 1 Nov.
from 13:00 to 17:00
with a one-hour break between 14:30 and 15:30

Cost: 30€*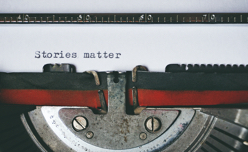 We'll start this workshop by exploring memoir and personal narrative forms.
How are they similar? How do they differ?
Next, you'll select a particular story from your life that you want to tell.
You'll examine your motivations for telling this story,
as well as the relationship between the self in the story
and the self telling the story.
You'll try out some playful exercises to help you
begin to focus your story and craft your narrative voice.

Before the workshop, you'll be asked to read a short piece of memoir
and a short piece of personal narrative for us to discuss together.

To register, send an email to Lisa at store@themunichreadery.com
Lisa Yarger is the author of the award-winning book,
Lovie: The Story of a Southern Midwife and an Unlikely Friendship
(University of North Carolina Press). www.lisayarger.com

* A lower rate is available for people with reduced means.